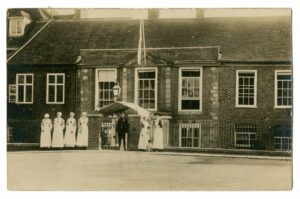 The Judge's Lodgings in the Cathedral Close in Winchester was, like many large houses, requisitioned for use as a hospital by the Red Cross during the First World War.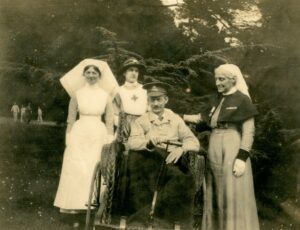 A collection of documents given to Winchester College in 2023 included items relating to a young woman called Violet Russell, the granddaughter of a Warden of the College, Godfrey Bolles Lee, who served as Warden from 1861 to 1903. His daughter Agnes was born in 1867 and in 1890 she married Leonard George Russell, an officer in the Rifle Brigade. Agnes and Leonard had three children – Violet, born in 1891; Cosmo, born in 1895; and Eileen, born in 1906.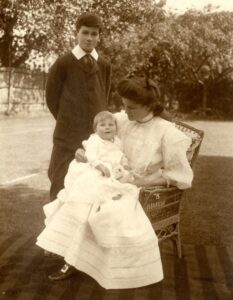 The archives at Winchester College are full of information about our former pupils and we can therefore track Cosmo's education at St Aubyn's in Rottingdean and then at Winchester College from September 1908. He left school in the summer of 1912 and joined the army with a commission in the Rifle Brigade after his training at Sandhurst. Then followed active service in Belgium and France. Cosmo was sadly killed in an attack on Rainbow Trench, the enemy front line, between Gueudecourt and Le Transloy on the Somme on 7 October 1916. He is buried in grave V.E.19 of the Bancourt British Cemetery Captain Leonard Cosmo Bolles Russell | War Casualty Details 206292 | CWGC. The temporary wooden cross with which his grave was originally marked is on display in the church of St. Cross Hospital. You can read more about him here Winchester College (winchestercollegeatwar.com)
By contrast, the College Archives tell us nothing about Violet's education or early life, but the family papers given in 2023 include an autograph book which Violet kept whist she worked as a VAD nurse in the Red Cross hospital in the Judge's Lodgings. The Red Cross on-line archives reveal that Violet served as a VAD nurse from August 1914 until February 1919 and her service records can be seen here Record | WW1 Volunteers (redcross.org.uk).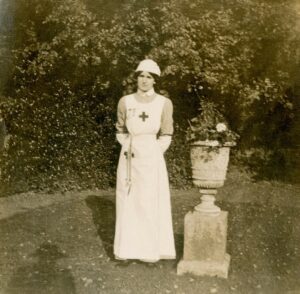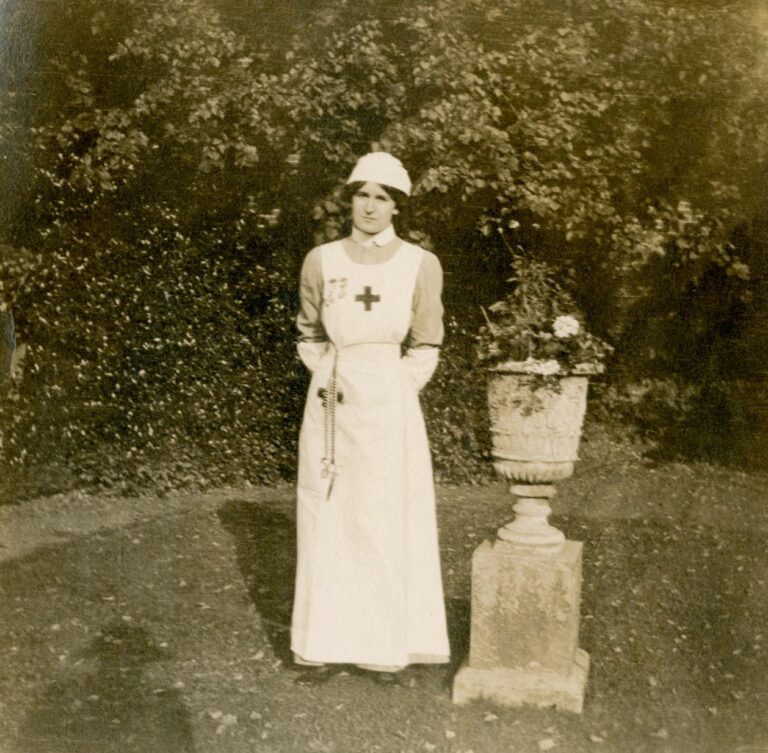 Violet's autograph book contains entries dated 1917, 1918 and 1919, and most are notes of thanks from soldiers on their discharge from the hospital. All those who have signed the book are enlisted soldiers or other ranks – privates, corporals and sergeants.
As this autograph book is a rare survival, I thought it might be interesting to list all those who have signed the book:
Private G Kirby, 2nd Hants Regt. Came to the Close 5 Mar 1917
Corporal W Stainton, 17 Sherwood Foresters. Admitted 10 August 1917
Driver E Baston, Royal Field Artillery, 51st Highland Division. Admitted 8 August 1917
Sergeant J Sweeney, 72nd Seaforth Highlanders, of Vancouver, Canada
Private J Briggs, Royal Inniskilling Fusiliers, 19 February 1918
Sergeant WJ Farrier, A Company, 7th Battalion The Buffs (East Kent Regiment)
Private C Smart, 45th Battalion Australian Imperial Force, 25 August 1917
W Murray, 2nd Battalion Inniskilling Fusiliers
Sergeant FEC Gardner, Royal Engineers, 6 August 1917
Private TW Quine, 1/8th Irish Kings Liverpool Regiment. Wounded at Ypres 31 July 1917
Private SJ Collins, Machine Gun Corps, wounded at Ypres 29 July 1917
Private George Sharpe, 1/4th Kings Own Yorkshire Light Infantry. Gasses 22 July 1917
Private SA Ingram, 1st Wounded at Ypres 31 July 1917
Private Herbert Renton, 17th Royal Welsh Fusiliers. Wounded at Ypres 31 July 1917
Private C Diplock, 11th Royal West Kent. Wounded at Holibuch 31 July 1917
Private J Lee, 8th Wounded at Loos
HS Hicks, London Scottish, 10 January 1918
H Harland, Royal Garrison Artillery, 7 February 1918
Fabian Williams, 7 February 1918
Private G Pegg, 1st North Staffs. Wounded at Ypres
Private E Benham, 1st Wilts Regiment
Private L Ingram, 1st Worcesters
H Nicolls, 1st LSR [Royal Sussex Regiment], C Company. Wounded 11 March 1917
A Townsley, Royal Horse Artillery
Private E Morgan, A Company, 39th Battalion Australian Imperial Force. Wounded at Broodseinde Ridge, Ypres 4 October 1917
Private John Hayes, 1st Gordon Highlanders Wounded 1 September 1918
Private JE Miller, C Company, 17th Battalion Australian Imperial Force
SS Wilkinson, Northants Yeomanry. 24 August 1918
Private F Dobson, 6th Northumberland Fusiliers
Driver WH Emptage, Royal Field Artillery. From Margate
Private S Beale, 2/2 London Royal Fusiliers
Private J Raistrick, 2/6 West Riding
Private Bagley, 1st 60 Rifles
Sapper J Burden, Royal Engineers. Discharged 2 Nov 1918
J Burridge, 846 Area Employment Co
Lance Corporal H Walmlate, 25th Royal Fusiliers Frontiersmen East Africa
Lance Corporal A Daniels, 1st Duke of Lancaster's Yeomanry
Rifleman P Mills, 1st Rifle Brigade
Lance Corporal AE Costain, 7th Border Regiment. Wounded 25 August 1918, discharged 22 Oct 1918
Sergeant JWA Milner, Royal Field Artillery
Bugler J Wier, 5th Dorset Light Infantry. Wounded March 1918
MR Frances, 3rd Kings Own Hussars
Sapper F Antill, Royal Engineers
Private WJ Robertson, 13th battalion Australian Imperial Force, 4 Feb 1918
Private GW Rainbow, Bedford Regiment, from Hillmorton near Rugby
Private Edd Gore, 22 Oct 1918
Private SJ Collins, Machine Gun Corps, 195 Com, 25 Div. Wounded at Ypres 29 July 1917
2nd Pte G Redhead, RAF
Private T Osborne, 26 Northumberland Fusiliers
Gunner EJ Moore, 162 Royal Field Artillery
Gunner W Duffield, v/iv Heavy Trench Mortar Battery, Royal Field Artillery, 17 July 1918
Private WH Williams, 4th Royal Berkshire Regiment, 25 August 1918
Private F Sells, 17th Batt Australian Imperial Force
Sapper H Warburton, Royal Engineers, 24 July 1918
Private R Finch, 6th Cheshires, 25 July 1918
Private J Massee, 2nd 10th Londons, 24 July 918
Gunner Hill, Royal Garrison Artillery, Avington Park Camp, Winchester, 15 August 1918
Private JF Batten, 46th Battalion Australian Imperial Force
Lance Corporal J Gardiner, 7th Royal West Kent Regt, 10 September 1918
Rifleman WJ Ward, 6th Battalion Rifle Brigade, 28 January 1919
Private Hammond, 1st Leicesters
Gunner Stuart, Royal Garrison Artillery, 22 August 1918
Rifleman J Harrison, 1st Kings Royal Rifle Corps, 25 October 1918
Private J Hayes, Army Veterinary Corps
'baby Jim', Army Veterinary Corps
Private PM Loughlin, Royal Flying Corps. Wounded 1 September, admitted 29 August
Private a Hartly, Army Service Corps
Sergeant GF Windebank, 605 Agric Coy
Private F Rookman, Royal Army Medical Corps
Gunner CH Simmonds, Royal Garrison Artillery, gassed at Ypres 12 September 1917
Private JP Johnson, D Coy 50th Battalion, Australian Imperial Force
Private H Bascombe, Hants Regt
Rifleman SG Lucas, Kings Royal Rifles, 125 Beaufoy Road, Lavender Hill, London
Private H Short, 5th Batt Kings Own Yorkshire Light Infantry. Wounded 20 July 1918
Private J Hobin, 1st East Lancs, discharged 8 August 1918
Sergeant Wood, 7 Buffs, discharged 8 August 1918
Private G Bird, 1 August 1918
Private William Selfridge, 12 Highland Light Infantry, 15th Scottish Division, 6 August 1918

The book also includes the names of some of the staff and it is possible to track these women through the Red Cross on-line archives. Most come from in and around Winchester and served as nurses in the Red Cross hospitals in Winchester – Ruth Gifford, Dorothea Worsley, Diana Dashwood, Isabel Day, Lottie Jerram and Marion Kennedy. Florence Hyde was a Lady Superintendent for Hampshire and Queenie Hawkins starts off as a cook and then becomes a VAD nurse. Annie Davidson was an orderly. Two women appear to have been professional nurses – Caroline Reddie came from Yorkshire and served in hospitals in Croydon and Leeds before coming to Winchester as a ward nurse; and Grace Marshall was from London and served in Winchester as a massage nurse and also gave electrical treatments.
Violet's papers include a photograph of the staff outside the hospital. One of the nurses, Diana Dashwood, has included a watercolour sketch of a soldier – illustrated here.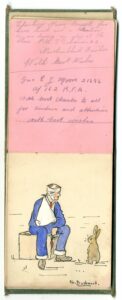 This little autograph book ties in nicely with the recent acquisition by Hampshire Archives of an album of photographs relating to the Red Cross Hospitals in The Close in Winchester and at Preshaw House in Hampshire. HAT granted money for the purchase of this album and perhaps some of the soldiers who feature in the album are those who have signed Violet's autograph book.
And what happened to Violet after the war? She didn't marry and seems to have remained at home with her parents as she is listed there in the 1921 Census. The 1939 Register taken in late September 1939 as part of the National Registration Act shows that Violet was still living with her father in the family home of St Cross Mede on St Cross Road, along with a parlour maid and two evacuees. Her mother died in 1934 and her father in 1946. Her sister Eileen married Jocelyn Hoare in 1935 and had three daughters. Jocelyn was the son of Walter Hoare of Daneshill House, Basingstoke, a brewer. Eileen died in 1981.
Violet died at the age of 95 in May 1986 in a care home in Warwickshire and her ashes were interred in Magdalen Hill Cemetery, presumably in a family plot, and probate was granted on her estate at the Winchester Probate Office soon after. Links to Hampshire therefore persisted.
More details on the soldiers who signed Violet's autograph book will be published in a follow-up article.
Note: With thanks to Patrick Craze and Dr Juliet Gayton for their assistance in tracking down records
relating to Violet's life.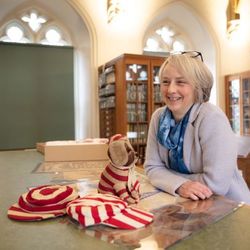 Author: Suzanne Foster, College Archivist, Winchester College
Bio: Suzanne qualified as an archivist in 1992 and came to work at Hampshire Record Office in the same year. She started work at Winchester College in 1999, working two days a week on a project which aimed to improve the storage, care and organisation of the College's archives. Suzanne divided her time between HRO and Win Coll until August 2007 when she left the record office and became full time at Winchester College as College Archivist in 2007.