The first winners of our new History competition for students in Hampshire have been announced.
The group prize for Years 7-9 has been won by The Henry Beaufort School for an excellent PowerPoint on the history of their school.
Not only does the PowerPoint cover many aspects of the history of the school, but it does so in a visually appealing way and uses a range of interesting archives. Their teacher said that the students had loved working on the project, and the judging panel could see that a lot of thought and work had gone into the finished project. Winning the group project means that the school has received £300 to go towards the school's History resources. The students will be awarded their winners' trophy later in July.
Moyles Court School won the Years 10-11 Group project. Their History Club (which included some students from years 7, 8 & 9 as well) also chose to do their project on the history of their school, but they did so by creating a website: https://mcs-website–greenengine.repl.co/ They used a range of resources from school archives, family resources, the Internet, buildings on site and oral History (a former pupil). The website was their idea, and they did all the coding themselves to create it. Their teacher commented: "The competition has been a brilliant project for the students to work on and they have absolutely loved it." The judging panel were impressed by the fact that the students had created their own website and also by the use of a range of archives used and the fact that the sources were clearly cited. There is a wealth of information on the website and a good use of both text and images. The website tells the story of the school in a very inventive way. Moyles Court also received £300 in prize money, which they are putting towards a 'Tudor Fayre' for the whole school before the end of the summer term. HAT Trustee, Alistair Dougall, presented the History Club with their trophy earlier in June (see photo) and was delighted to hear how much they had all enjoyed working on the project.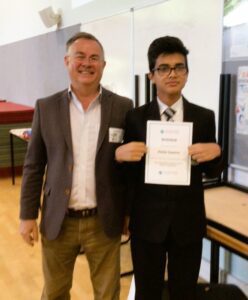 Amin Sumra of Toynbee School won the individual prize (of £100) in the Year 7-9 category for his essay on The Titanic, which the judging panel thought was both well researched and well written. Many congratulations to him on his achievement.
The competition for the next academic year will be launched in September. The deadline for entries will be Friday 15th March 2024. More information will be published when the new competition is launched.