If proof was ever needed of the enduring entanglement of the people of Hampshire with the global Hispanic world, a brief visit to the Hampshire Record Office, home of the Hampshire Archives & Local Studies and Wessex Film and Sound Archive should be more than enough to remove any doubt.
I did exactly that a few weeks ago in search of material relating to William Henry Hudson (1841-1922) , the wildlife activist considered to be the world's first literary environmentalist and a key example of the Hispanic-Anglosphere. Born and brought up in Argentina, he put foot on England aged 33 to remain for the rest of his life, becoming a leading advocate for the preservation of both South American and British wildlife and rural culture. He was a councillor and founding father of the Royal Society for the Protection of Birds.
Photo credit: Wikicommons
And I was not disappointed with my findings – but more on that later. Because you could blame it to the professional vice of an academic historian or to simple curiosity, but for a moment I could not resist the temptation of browsing the archive catalogue to see what else could be hidden there relating to the wider Hispanic world. So, I conducted what it is likely to be the most pedestrian of searches by keying the term 'Spanish' under "Any Text" in the "Advance Search" facility. The outcome could not be more satisfying: 313 hits! A long list unrolled in front of my eyes with a magnificent bounty of material dating back to the 15th century, covering all periods until the early 21st century and the most fascinating range of social, cultural, political, economic and environmental issues. Dozens if not more stories are waiting there to be uncovered by serious researchers, including those looking for original and rewarding topics for dissertations.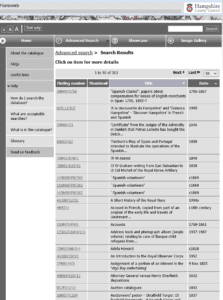 It would have been easy to be distracted by following any of those tantalizing leads if it were not by an inner voice that began to shout to my ear a phrase I often repeat to my students: 'Keep focused on your research mission!" It was enough to break the spell, bringing me also back to the reality that investigating the work and legacy of William Henry Hudson in Hampshire was to require far more than a simple, obvious word check.
Next year will mark the 120 anniversary of the publication Hampshire Days (1903), the first and arguably the finest of his rural classics, including The Land's End (1908), Afoot in England (1909), and A Shepherd's Life (1910). Surprisingly, I could not find a copy of any of these books in the archive library – perhaps because most, including Hampshire Days, are now available freely online (see  https://archive.org/details/hampshiredays00hudsrich/page/n13/mode/2up ). But it was greatly satisfying to find instead material that confirmed my view that, not only was Hudson a trailblazer, respected and admired equally by scientists (ex. Charles Darwin, Alfred Russell Wallace) and writers (Joseph Conrad, Ezra Pound, Ernest Hemingway) and even by creatives in Hollywood who made movies from his writings, but also that he was – and remains – a long-term influencer.
A newspaper cutting from The Hampshire Chronicle, Hampshire Observer and General Advertiser for the South and West of England, dating 27 August 1960, for example, invoked his name and work to give muscle to a campaign against rural overdevelopment and the 'the fiery pace of modern living' while a recording of the television programme 'The Chase' (Series BBC TV South) about the people and places of Cranborne Chase presented by Desmond Hawkins in 1980 included quotes from 'A Shepherds Life to evoke the best of the high rolling downland that sprawls untidily across Dorset's eastern boundary with Hampshire. And all these findings were made in a little over an hour-visit to the Hampshire Record Office. What a result!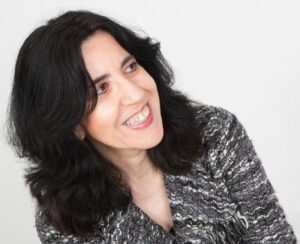 Author: Dr Graciela Iglesias-Rogers
Bio: Dr Graciela Iglesias-Rogers is Senior Lecturer in Modern European and Global Hispanic History at the University of Winchester and lead researcher of the AHRC-funded international research network project 'The Hispanic Anglosphere: Transnational networks and global communities (18th – 20th centuries)' in partnership with The National Trust (Tyntesfield) and the Centre of American Studies at the Universidad Adolfo Ibáñez in Chile.