The town of Southampton is not associated with slavery in the same way as ports, such as Bristol and Liverpool, but look below the surface and it can be seen that the town in the 18th century was dominated by plantation families who influenced politics as the 'West Indian' faction. These men who owed their wealth, which bought them their power and influence, from their family plantations, Men such as Josias Jackson, heir to five plantations on the island of St Vincent, who became a colonel in the Local Volunteers and went on to become an MP and stood against abolition; or the Southampton MP George Rose who had estates in Dominica and Antigua and wrote A History of Jamaica. Bryan Edwards was a partner in the local bank, Harrison & Maddison, which has survived to the present day, being taken over by Lloyds, who  owned more than 600 slaves and his estate was valued at £73,328 (over five and a half million today).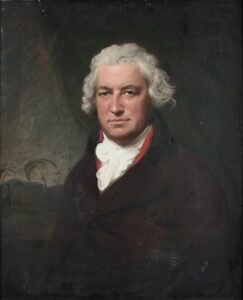 Byran James
William Gunthorpe, who was known to Jane Austen and the family and  mentioned in her letters, owned the plantation Painters on the isle of Antigua. There were many other families, including the family of Theodore Foulkes of Shirley House who, on his death, divided his slaves amongst his four children. His daughters then went on to lease their slaves for seven years to their brother Arthur who was managing the family estate. If a slave died during that period the owner was to be compensated, but if the slave gave birth the child belonged to Arthur.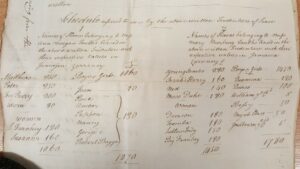 Foulkes Document
There are only brief records of four slave ships using the town, but the Southampton plantation families had been early colonisers of the West Indies from the seventeenth century. Local merchant Thomas Coombes transported slaves to St Kitts in 1626. By the eighteenth centuries, their sugar and tobacco plantations were well established and often left in the care of managers whilst their owners enjoyed all the delights of Southampton in its heyday as a watering-place and spa resort.
Women were also plantation owners and used slave labour. Ann Newell, who lived next door to Jane Austen on Castle Square, had inherited sugar plantations from her father James Launce, and from her husband Joshua Newell. The latter was one of the oldest estates in Jamaica. As a widow Anne moved to Southampton but was still actively involved in the management of her estate, often using the Southampton town clerk and attorney, Thomas Ridding, to act for her. At the time when slavery trade was abolished in Britain in 1807 she had 329 slaves, but the Act did not sweep away slave ownership in the West Indies; that did not happen until 1837. Ann had died a few years earlier but her daughter and heir received £3518 (over £220,000 today) in compensation for her 258 slaves. Ann's daughter was married to the clergy man Hugh Hill, vicar of Holy Rood, who actively managed the estates on behalf of his mother-in-law and wife. Hill was not the only cleric who benefitted from income from slave plantations. Stalwarts of the Huguenot French Church in Southampton, such as the Brissault family, owned sugar plantations, and Michael Pascal, the former owner of the Olaudah Equiano renowned for his autobiography about his life as a slave, retired to Southampton where his relations were leaders of the French Church.
Not all plantation owners were white, Ann Middleton, the wife of the East India Company merchant Nathaniel Middleton of Townhall House, was a mixed-race heiress to plantations in Jamaica. Her father, John Morse, had not married her mother, Elizabeth Augier, who was descended from slaves –  there were local laws against such marriages –  but he recognised his five children and sent them to England to be educated. When he died his will, which left substantial legacies to all his children, was challenged in the courts by a white relative, who claimed to be the substantive heir as the amount mixed raced children could inherit was capped. The case made national headlines, which was the first time her husband was aware of her antecedents. Ann and her siblings won the case, and she had a happy marriage (her husband also had another family by his Indian mistress prior to his marriage, the last child of which was baptised on his wedding day to Ann).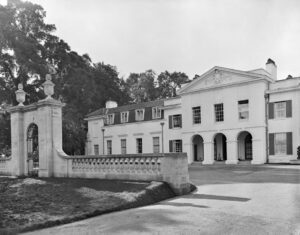 Townhill Park House
Further Reading & References:
Telling Other hiStories: Early Black History in Southampton c1500-1900 – Cheryl Butler
The Page & Moody Archive – Southampton Archives
The History Civil and Commercial, of the West Indies – Bryan Edwards
The Interesting Narrative of the life of Olaudah Equiano or Gustavus Vassa the African written by Himself
Sugar Refining in Southampton – J C Drake
UCL Legacies of British Slave Ownership www.ucl/ac/uk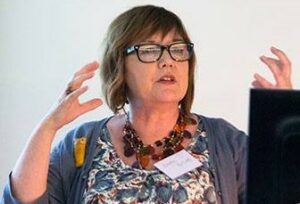 Author: Dr Cheryl Butler
Bio: Dr Cheryl Butler is a Fellow of the Royal Historical Society, Fellow of the Royal Society of Arts, and Honorary Fellow of the University of Winchester and is a member of the editorial board for the Southampton Records Series and the Hampshire Papers. She has published a number of books and papers which have drawn upon the archives from the Southampton Records office and Hampshire Archives including three Southampton Records Series volumes on the Southampton Mayors Book of Fines; the oral history of Itchen Ferry Village We only wore shoes on Sunday; a book on Tudor Southampton: Rioters, Revellers & Reformers;  Jane Austen & Southampton Spa and Powder, Prisoners & Paintings – The Story of God's House Tower. She has organised several large award winning community heritage projects including The Diaper Heritage Project; Los Ninos, the story of the Basque Children Refugees; Tudor Revels; The Stinking Fish of Southampton, Jane Austen 200. She is passionate about using archives to inform creative projects and is writer director of the site specific Sarah Siddons Fan Club Theatre Company. She is on the National Training Committee for the British Guild of Tourist Guides and chair of the Diaper Heritage Association one of the largest single name genealogical study organisations. Winner of the British Association of Local History personal achievement award in 2014 and the City of Southampton award in 2018 for services to heritage.  She has spoken at numerous national and international conferences raising the profile of Southampton and its rich archives and history. She runs a volunteer palaeography group which transcribes sixteenth century documents and is a published novelist, her novel, The Theatre of the World is set in Elizabethan England, based on original material from Southampton town archives.
Her latest books:
St Mary-over-the-Water; The story of Pear Tree Church  2020
The Remembrance Books of Robert Knaplock 1575 and John Jackson 2021
Telling Other hiStories: early black history in Southampton c1500-1900 2021