Welcoming Prince Henry to Winchester in 1603
Prince Henry, the  nine-year-old son of King James I and Anna of Denmark, joined his mother at Winchester in October 1603. The royal households had come to Winchester to avoid plague in London. Anna arranged a masque to welcome him, a courtly entertainment involving costume, dance, and music, performed on 11 October or a few days after. Details of the  event are obscure, but somehow the show dented the new queen's reputation.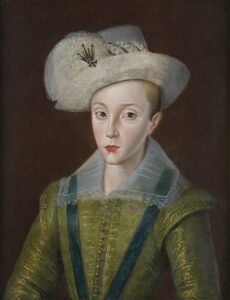 Prince Henry (1594-1612) son of James VI and I and Anna of Denmark
Copyright: Wikimedia Commons
After the death of Elizabeth I in March 1603, James VI, king of Scotland, became king in England. His oldest children, Prince Henry (1594–1612) and Princess Elizabeth (1596-1662) travelled to England with their mother Anna of Denmark (1574-1619), while the youngest surviving child Charles (1600-1649) remained at Dunfermline Palace. There was plague in London, which affected the coronation at Westminster in July. Princess Elizabeth was sent to join Henry at Nonsuch Palace to the south of London. After two members of the Queen's household died of plague, Anna and Elizabeth moved from Nonsuch to Winchester on 18 September 1603, thought to be a healthier place, far from the infection in the city.
King James followed a couple of days after. James and Anna visited Southampton from Winchester, where on short warning the mayor Edmund Aspden prepared a speech mentioning the suddenness of their visit and anticipating 'the Majesty of the Royal presence astonishing me'.1 Prince Henry arrived in Winchester on 11 October, and this may have been the day the welcoming masque was performed. Anna moved to Wilton House on 17 October, and a courtier, Thomas Edmondes, wrote to the Earl of Shrewsbury that she had done her son the Prince 'the kindness at his coming hither to entertain him with a gallant mask'.
Winchester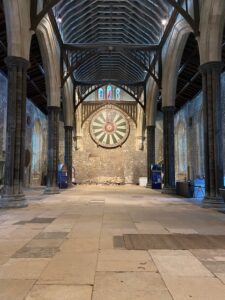 The Great Hall of Winchester Castle and the Round Table, venue for Henry's welcome masque
It's generally thought that Anna of Denmark stayed in Winchester Castle, although direct evidence for this seems to be lacking. Arbella Stuart (1575-1615), the king's cousin, mentioned the 'queen's side', a phrase suggesting James and Anna were lodged in the same building. The masque may well have been performed in the surviving Great Hall with its established Arthurian connection, visibly linking the new Stuart dynasty with English royal traditions.
The recorder of Winchester, a judge, John Moore, presented silver cups to James and Anna, and made a speech referring to rebuilding in Winchester, perhaps more of an allusion to a potential revival of ancient glories of the city than to any renovation works ahead of the royal visit. The court would make a significant impact at Winchester, and would have consumed a great deal of food and produce from the city's markets. The court on progress was not always welcomed, and there were objections to Anna of Denmark's later journeys to Bath, which were thought likely to create shortages and hardship.
Anna of Denmark and her courtiers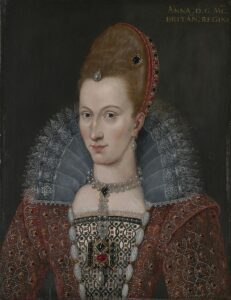 Portrait of Anna of Denmark (1574-1619)
Copyright: Wikimedia Commons
Anna of Denmark brought a number of Scottish women and girls with her. Fabric for clothes was ordered for Anne Livingstone, Margaret Stewart, Anna Campbell, Jean Drummond, and Margaret Hartsyde. Jean Drummond bought cambric, linen, and bone lace at Winchester. An account of expenses written by a young girl, apparently as an exercise in calligraphy, perhaps by Princess Elizabeth herself or Anne Livingstone, covers this period and mentions some details of their journey.
Several of the maids of honour and companions of Princess Elizabeth were young children, and Arbella Stuart described the household playing children's games. Arbella named four games, or songs, which were led by a mistress of revels who ensured her reluctant participation;
Whilest I was at Winchester theare were certein childe playes remembered by the fayre ladies, viz. I pray my Lord give me a course in your park, Rise pig and go, One peny follow me … I was by the mistresse of the Revelles not onely compelled to play at I knew what, for till that day I never heard of a play called Fier, but even perswaded by the princely example I saw to play the childe againe.2
Although Arbella writes of these activities with a mixture of humour and exasperation, participation would be desirable for a successful courtier, anxious to maintain royal favour. The mistress of revels was perhaps Anna of Denmark herself.
Some writers and musicians were with the Queen at Winchester. The composer and musician John Dowland may have been involved, he mentioned meeting the Queen at Winchester in the dedication of his Lachrimae, or Seaven Teares. The lutenist and dancing master Thomas Cardell attended the queen and Princess Elizabeth. The Queen's secretary was the Scottish poet William Fowler. In 1594, he wrote an entertainment for the baptism of Prince Henry at Stirling Castle, and he was also present at Winchester. As the royal itineraries were settled, Anna and her writers and musicians could have had over a fortnight to prepare and rehearse a masque for Prince Henry.
No details are known of the music, song, dance, or costumes. Comments about the masque were not positive. In her letter, Arbella Stuart appears to include the masque with the child play as 'an enterlude, (as ridiculous as it was) but not so ridiculous as my letter'. Lady Anne Clifford had visited Prince Henry at Nonsuch shortly before he left for Winchester, and her cousin Frances Bourchier joined Princess Elizabeth's household. Clifford recalled that the performance at Winchester had damaged the reputation of Anna of Denmark and the women of her court;
Now there was much talk of a masque which the Queen had at Winchester and how all the ladies about the Court had gotten such ill-names that it was grown a scandalous place, and the Queen herself much fallen from her former greatness and reputation she had in the world.3
With so little known of the performance, the nature of the scandal is difficult to pinpoint. Perhaps the personal participation of the Queen and her ladies in the masque or dance caused the scandal. In Scotland, the church had complained about 'balling' in Anna's household in 1596. Accounts from 1591 show that Anna and James bought masque costumes to wear at weddings, dancing in disguise. The Winchester event may have been based on a Scottish tradition of performance unfamiliar to its audience. Anne Clifford danced in later court masques.
A French diplomat, Christophe de Harlay, Comte de Beaumont, commented that the Winchester show was rustic, une masquerade champêtre, apparently meaning unsophisticated. Although the masque lacked order or decorum, and was not costly, Beaumont explained that it served to raise the Queen's spirits, and she was planning superior and more elaborate entertainments for the Christmas season. The Winchester masque seems to have been for Anna's son, a private and domestic celebration, and unsuitable for the entertainment of a diplomatic elite. The 'talk' mentioned by Clifford and the lack of order noted by Beaumont may reflect gender concerns, as if Anna's household was subversive, or suspect, as noted by the Scottish Kirk in 1596. Kim F. Hall suggests this adverse comment makes 'masques seem less like peaceful celebrations of royal power and virtue than sites of female misrule'.4
The court seems to have brought the plague with it to Winchester. The royal family stayed longer in the west of England, mainly at Wilton House, and Arbella was lodged nearby at Faulston.
The Main Plot and Bye Plot against James were revealed. On 3 November 1603, King James asked the scholars of Winchester College, to vacate their buildings so the College could accommodate judges and servants for the forthcoming trials. The Warden, John Harmar, replied that he had no contingency plan to move the school in times of plague, except to a farmhouse belonging to their foundation. However, he agreed to send the scholars home early for Christmas. Lawyers were also accommodated in Wolvesey Castle. The story of the treason trials at Winchester became the focus of histories and is now much more well-known than the Queen's controversial masque.
Footnotes
1. John Duthy, Sketches of Hampshire (Winchester, 1839), 474.
2. Sara Jayne Steen, Letters of Lady Arbella Stuart (Oxford, 1994), 193.
3. Jessica L. Malay, Anne Clifford's Autobiographical Writing, 1590–1676 (Manchester, 2018), 25.
4. Kim F. Hall, Things of Darkness: Economies of Race and Gender in Early Modern England (Cornell, 1995), 137.
Further reading:
John Duthy, Sketches of Hampshire (Winchester, 1839).
Jemma Field, Anna of Denmark: Material and Visual Culture of the Stuart Courts
(Manchester, 2020).
Kim F. Hall, Things of Darkness: Economies of Race and Gender in Early Modern England
(Cornell, 1995).
Jessica L. Malay, Anne Clifford's Autobiographical Writing, 1590–1676 (Manchester, 2018). Sara Jayne Steen, Letters of Lady Arbella Stuart (Oxford, 1994).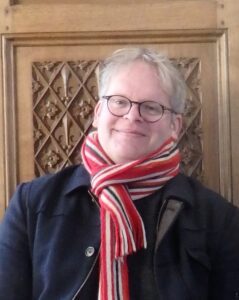 Author: Dr Michael Pearce
Bio: Michael Pearce studies history in Edinburgh and is a freelance heritage consultant. He became interested in Anna of Denmark's dancing activities after reading her costume records, and has published articles about his findings in The Court Historian and Medieval English Theatre. He worked with Historic Environment Scotland and artists making a copy of the painted ceiling from Winchester's Westgate Museum for Stirling Castle.