The archives of Winchester College are housed in six medieval rooms and consist of more than 30,000 items, with the oldest dating from the early 10th century.
They cover all aspects of the school's life from foundation to the present day. The college was founded in 1382 to provide a free education for 70 scholars with the intention that these boys would eventually enter the service of church and state, so providing a better educated administrative class. Over the centuries, it has continued to provide an educated elite. Records of its fellows and scholars are therefore a rich source for historians interested in the lives of men (yes, only men) who held key positions in public life, peopled the professions, and owned land and property.
Winchester College is one of those institutions that over the centuries have kept most of their records. Its archives (often termed muniments), have been preserved in three stone-built towers. They cover a wide range of topics, including the foundation of the college by William of Wykeham (hence pupils are Wykehamists), scholars, annual accounts, college servants and bailiffs, records for manors held by the college, inventories of property and books, leases, lawsuits and genealogical records of Founder's Kin, who were entitled to preferential admission to the school until the right was abolished in 1857.
The records have been catalogued (see Himsworth's Winchester College Muniments below) and may be viewed by prior appointment with the archivist, Suzanne Foster, (sf@wincoll.ac.uk). The reading room also contains a collection of reference books relating to the college and other subjects, some of which have annotated to account for new findings and corrections.
Sheila Himsworth went on the Surrey Record Office and the Guildford Muniment Room. Contributions were made by John Harvey, Peter Gwyn, and Roger Custance, College Archivists 1949-64 and 1975-76, and 1976- [?date], respectively.
Online finding aids
After registering to log on with: sf@wincoll.ac.uk, the following finding aids may be viewed online.
Published biographical registers of pupils known as Winchester College Registers, and covering 1836-1975
Manuscript registers of scholars, covering 1393-1964
T.F. Kirby, Winchester Scholars, London, 1888, covering 1393-1887
World Wars 1 and 2: War Service Rolls and Rolls of Honours for Wykehamists and visit also Winchester College at war
School magazine, The Wykehamist, 1866-1935
Sheila Himsworth, Winchester College Muniments, 3 vols, Chichester, 1976-1984
Photographs of the school, late 19th and early 20th centuries
Source: Suzanne Foster, News from Winchester College, HAT
Newsletter, Spring 2019, p.56.

More information on Sheila Himsworth's Winchester College Muniments catalogue volumes and links to them on line can be accessed via:
Himsworth, Volume I: College
Himsworth, Volumes II & III: Estates
Source: Suzanne Foster, News from Winchester College, HAT Newsletter,
Spring 2019, p.56.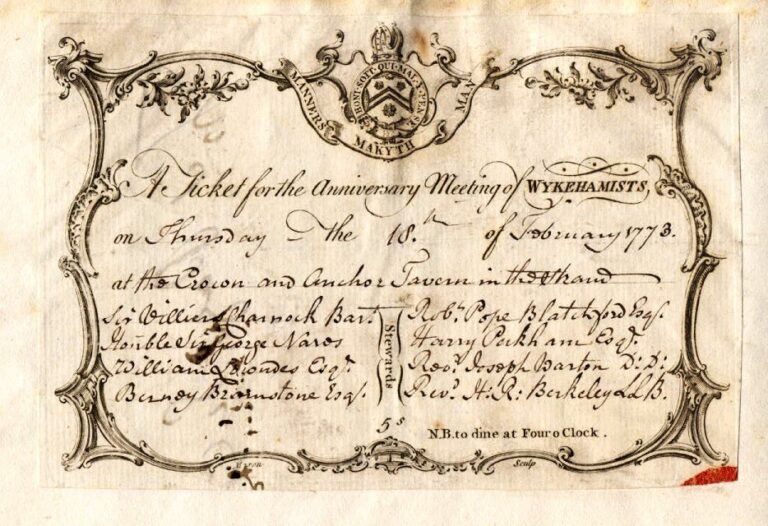 The indexes at the back of the volumes of Himsworth are very extensive: 89 pages in Vol.I and 394 pages in Volume III (covering vols
Read More »